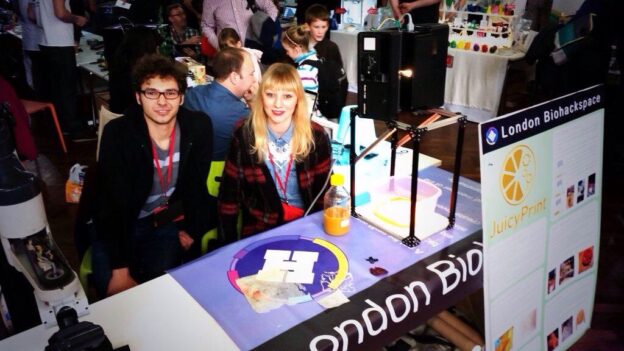 Elephant and Castle Mini Maker Faire
On Saturday 15th we showed our JuicyPrint project at the Elephant and Castle Mini Maker Faire 2014, hosted by London College of Communication, the Greatest Show (and Tell) on Earth—a family-friendly showcase of invention, creativity and resourcefulness, and a celebration of the Maker movement. It's a place where people show what they are making, and share what they are learning. Makers range from tech enthusiasts to crafters to homesteaders to scientists to garage tinkerers. They are of all ages and backgrounds.
We were definitely kept busy on the JuicyPrint stall! The project stirred up quite an interest amongst science, tech, design and craft enthusiasts alike.
The day was a great success, opening doors to some really interesting opportunities. We're very excited to see the directions this could take the JuicyPrint project!
A big thank you to the Maker Faire team for having us!
Check out the Make: interview with Ilya Levantis from the event here.