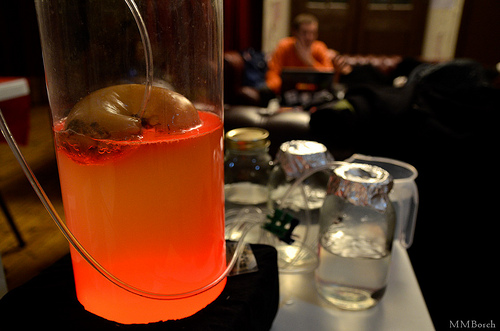 The DIY Bio Salon comes to London
On Wednesday 19 March, the Arts Catalyst in Clerkenwell saw curious patrons and international amateur biologists (or "biohackers"), gather for an evening of presentations and discussions as part of LabEasy's 'DIY Bio Salon'. Keen to hear from some of biohacking's most outspoken enthusiasts, guests were packed in and surrounded by tables of freakish exhibits from a week's worth of DIY Bio workshops – drills, circuit boards, cell culture plates, confused-looking fish, and surreal artificial hearts made of bacteria, pumping away in the background.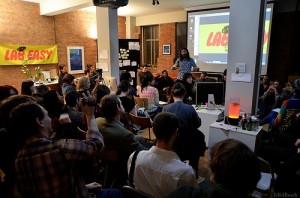 Biohacking's Lone Ranger
First up to speak was DIY biology's famous lone soldier, Cathal Garvey from Cork, Ireland. A somewhat inspirational figure for having set up a fully-functional lab in his mother's basement, Cathal is the only biohacker in Europe to have had his lab licensed by the authorities to work with genetically-modified organisms. He described his makeshift lab gear, including a power-drill centrifuge and a coffee-can PCR machine, and the joys of bulk-buying lab chemicals which are sold as over-the-counter laxatives. As for growing colonies of bacteria, that's as easy as "forgetting about your dinner for a while".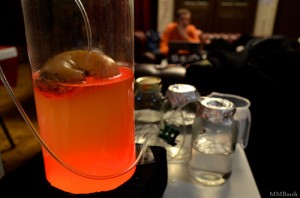 But Cathal made it clear that he had bigger fish to fry with his evening's talk –and this was the idea of intellectual property (IP). "Over 50% of your own DNA isn't even yours!" Patenting, he argued, is causing huge problems in the world of biology, with pharmaceutical and agricultural companies patenting genetic sequences in their products, and holding back further essential research and product development from other groups. Golden Rice, for example, modified to produce beta carotene, a key nutrient for healthy eyesight, was delayed for years because of patents.
The Politics of DIY Biology and Citizen Science
Cathal argued that biotechnology should be about how we feed and clothe ourselves, and IP and its associated ideas that genetic sequences can be 'owned' actually means that many are left powerless. This included huge effects on DIY Bio groups, when they're left begging for permissions to implement any ideas they have.
These issues clearly resounded with many of the event's guests when later discussions revisited the issue, and touched upon the inspiration of the open source software movement, and new developments in open access publishing. So despite the non-political motivations of many DIY Bio groups, and the family-friendly and educational nature of the week's workshops, this was a strong reminder of how many proponents are driven to move to a more open scientific landscape, with Hackteria's Marc Dusseiller commenting "the faster we go there, the better".
Ellen Jorgensen, from one of the world's most established community labs, Genspace in New York, spoke about the role of garage biology for the wider field of science. "The idea of who should do science, and what science is, is something that needs to be changed." Given enough practice, anyone can do any activity, she argued, and science was no exception.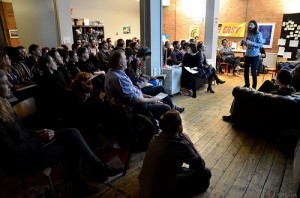 And in relation to biotechnology, this should be something that should be actively encouraged. With DNA technology evolving so rapidly, and fewer people understanding it, there is a clear benefit for people having more hands-on experience with biotechnology, and encouraging a mature debate.
As she described the wide spectrum of GenSpace projects, her message expanded beyond the need for access to all, into a recognition of the power, originality, and value of scientific projects inspired by non-traditional scientists, including artists.
Street Science
GenSpace DNA barcoding projects (to identify the species origin of food) showed that 30% of fish in sushi restaurants was not correctly identified (anyone for some horsemeat lasagne?) Other useful, and entertaining, community-driven projects included Dog Poop Forensics. By taking the DNA of saliva from tennis balls thrown to a neighbourhood's different dogs, and matching it with the DNA of frequently-found street poo, neighbours were able to identify the offending dog, and confront its owner. And art-science projects included 'Stranger Visions', where an artist was able to know more about a visitor in their gallery than their own doctor, simply by determining the genetic markers from a hair found on a picture frame, and generated a digital portrait of that person. With such inspiring project examples, Ellen showed how technology is too important to be left only in the hands of companies.
Biohacking Around the World
Marc Dusseiller of Hackteria, one of the largest online biohacking hubs, finished the talks with a whistlestop tour of some of the many DIY Bio projects in the developing world.
One group modified the standard camera on a Playstation 3 into a microscope and used it for blood cell counting in Indonesia. Another Indonesian group developed a safe home-brewing kit for the public, in response to lethal fermentation experiments by citizens trying to avoid rising taxes on alcohol.
Marc also hailed DIY Bio's potential to provide small, portable laboratories to bring low cost medical diagnostics to the developing world. But he tempered this with his experience of promoting such projects in Kenya, where hundreds of so-called 'doctors' with mystical machines would also claim scientific prowess in curing ailments at a cheaper cost than conventional medicine. It was therefore important for biohackers to be more critical about the claims they make as to their potential.
Safety and Regulation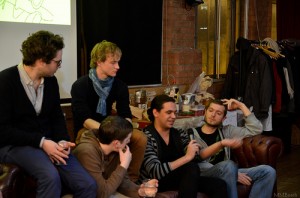 Unsurprisingly, the following Q & A session touched upon health and safety issues, where speakers stressed the importance of working under biosafety protocols, and made it clear there was no interest in working with anything other than safe bacterial strains.
The discussion soon moved on to how the authorities interact with biohacking groups to address safety issues. In light of recent conferences set-up between the bioterrorism unit of the FBI and DIY Bio in California, where hundreds of biohackers were invited to a 'friendly' meeting to promote better engagement between the two organisations, LabEasy attendees were curious as to how the biohackers felt about this type of engagement.
While many appreciated the open dialogue offered by the FBI, some believed that the FBI first owed several people an apology for past intrusions and unjustified legal proceedings brought against bioartists in the past. The artist, Claire Pentecost, a close friend of Steve Kurtz, was present in the audience, and gave a recap of the distressing events surrounding his arrest by the FBI. In 2004, Kurtz phoned 911 to report the death of his wife from natural causes, and when the authorities found biological specimens from an unfinished art installation in his flat, the FBI detained him on bioterrorism charges, and years of legal battles followed.
Bacteria Hysteria
Against the backdrop of suspicions both from the authorities and sensationalist media of DIY Bio's potential for bioterrorism, there has been a recent and unexpected trend within DIY Bio of amateur biologists promoting safety, responsibility and family-friendly workshops over 'biopunk' political activism. So the next question to the evening's speakers seemed appropriate – do they now tend to pull back from political positions just so biohacking can keep track?
MadLab's Asa Calow responded by pointing out that most of the politicisation associated with biohacking actually tends to come from the media, having themselves suffered from some overzealous editing in last year's BBC news report by David Shukman, which many considered to be vastly misleading and sensationalist. Thomas Landrain from Paris's La Paillasse, however, felt that the media representation of biohacking was actually improving, and they no longer have to deal with lots of baseless questions about the manufacture of synthetic viruses.
But Ellen Jorgensen was quick to point out the inherent limitation in trying to define DIYBio and the motivation behind it, political or otherwise. "It's difficult to get a consensus on what DIYBio is." She argued that everyone does it for different reasons. Some proponents say that there's an obligation to push boundaries with biohacking activities, while others would say that putting a lab in an office space is a highly political statement in itself. So there was a need to recognise this spectrum and avoid risky generalisations.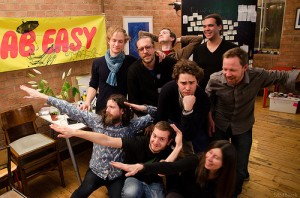 It was clear from the event that biohacking attracts people from a whole range of backgrounds, and the wide spectrum of groups and projects of very different natures is simply one of the activity's biggest strengths. The ideals of 'open biology' and 'open science' will always be important to protect, but the extent to which this is a priority over a more simple fascination with biology through self-education, differs hugely between biohackers.
The DIY Bio Salon was a welcome opportunity for newcomers to discover more about biohacking. Many more public dialogue events like these are needed if people are going to fully understand the activity and its issues, and based on the event's popularity and audience's appetite, these events are also clearly in demand.
The DIY Bio Salon was held in London as part of LabEasy, a series of workshops organised by MadLab, Manchester's DIY Biology group. The programme was intended to demystify molecular biology, with family-friendly activities, ranging from introductions to bacterial genetic modification to extracting DNA from fruit and veg in Deptford Market.
Written by Joel Winston
Photos by Malthe Borch and Bethan Wolfenden