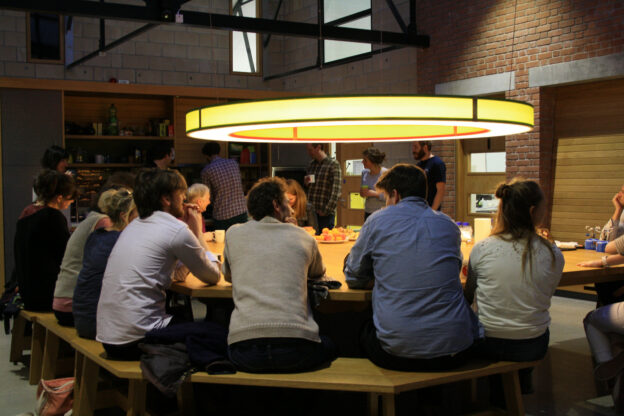 Yeastograms and Spreading the Word of Biohacking
A quick write up of stuff from a couple of weeks ago – better late than never….
One of the things I've been trying to achieve as a member of London Biohackspace for the past 6 months is getting academics to notice the DIYBio community. It was therefore a great opportunity, not to be missed, when Dr Amber Griffiths offered to arrange a seminar at the University of Exeter's Environment and Sustainability Institute followed by a Yeastograms workshop at the FoAM Kernow studio in Falmouth, Cornwall.
Before actually giving our seminar, Amber kindly gave us a tour of the brand new building on Exeter Uni's Penryn campus which housed the Environment and Sustainability Institute – of which the founding principle is to bring researchers from different disciplines together to help tackle environmental issues. It was certainly interesting to see a physical product of the "interdisciplinarity" ethos that has been the buzzword circulating in the academic and R&D world for the past few years, and it did actually feel like something useful had been achieved with the EU's £23m investment. In many ways though, it's not particularly surprising to me – interdisciplinarity is what hackspaces (biohackspaces included) have always been about, and what makes them such interesting places to be involved with. In the hackspace world "interdisciplinarity" is just part and parcel of the expertise barter system that means a biologist can learn to weld in exchange for teaching aseptic technique to a metalworking expert. The results of these mental cross-pollinations can be seen in the numerous innovative projects on display in any hackspace.
Our seminar, an intro to the DIYBio movement, was extremely well attended by the academics of the institute which was a rather heartening result. Hopefully the main take-away for them will be, firstly, that such a thing even exists, and secondly, an open mind to what can be achieved by non-classically trained scientists in the space of practical biology. It would be really fantastic if some of the attendees were even inspired to seek out a local community workshop or hackspace and help to start a new community lab. Read the institute's summary here.
Later that evening, the Yeastograms workshop at the FoAM studio was also full to capacity with a variety of professional scientists, artists, programmers, and farmers. We showed how to make nutrient agar using potatoes, brewing sugar and agar and coloured with food colouring or powdered charcoal (all available cheaply online). Each participant then got to pour out a dish of agar followed by spreading live yeast on it once the agar had set. All this was done under aseptic conditions achieved with surgical spirit, a microwave and a camping gas burner.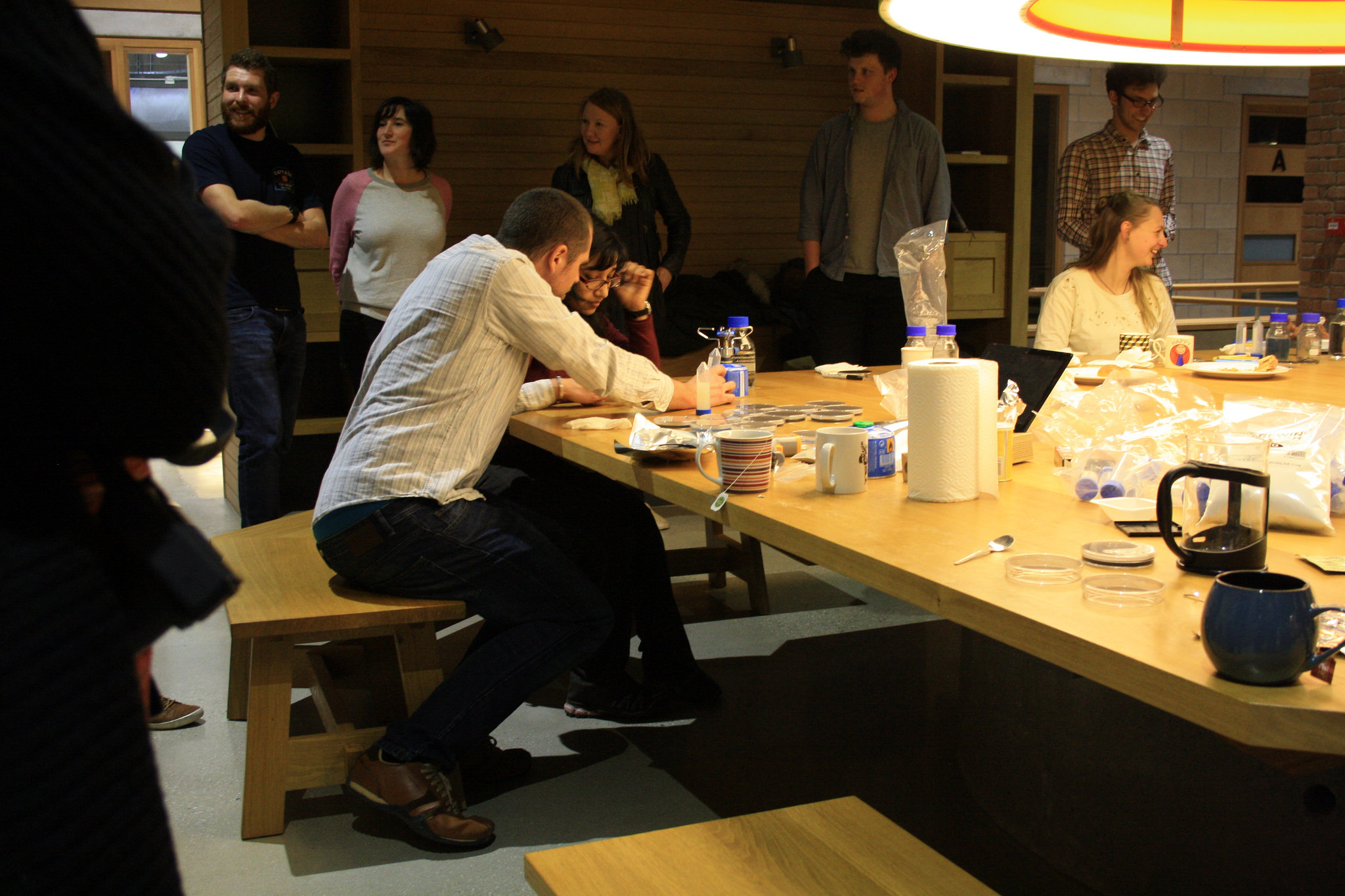 Next, designs using foil cutouts or marker pen were made on the lids of the petri dishes before being placed on under a specially constructed UV led rig. Thus, the designs were transferred to the surface of the agar in the form of living yeast colonies:
The hope was to show that using only equipment that is readily available from ordinary shops it is possible to manipulate, and play with, organisms in interesting ways. Amber mentioned in her blog post that two important results from the workshop were: the bringing together of people who would not normally meet; and the exposure of people to biology in a friendly way that could help create a more informed environment during debates on controversial biological topics.
You can see more images from the workshop and final yeastograms here and more details about yeastograms from the original creators, Pavillion 35, here.
Only a few days later, I travelled up to Oxford to speak at an evening of talks held by SynOx. Here the audience was mainly composed of molecular biologists, so the subject matter of synthetic biology and mentions of iGEM required little additional explanation. However, the biohacker's viewpoint I presented proved to result in some productive discussion about the benefits of community involvement in what is usually a very exclusive field.
Hopefully, by doing these sorts of talks and getting in front of professional biologists more of academia can start to engage with the DIYBio community. I have more talks at Universities coming up, and with each one I hope to make more academics aware of DIYbio and why they should get involved.